This weekend, two South East Asian Wonder Markers were unveiled at Expo 2020 Dubai in honour of Komodo Island and Ha Long Bay.
On February 11, 2022, the Wonder Marker for Komodo Island was revealed on the outdoor stage of the Indonesia Pavilion at Expo 2020 Dubai. Komodo Island was declared one of the New 7 Wonders of Nature in 2011. The unveiling of the Indonesian Wonder Marker was opened by President and Founder of New7Wonders Bernard Weber, Director of New7Wonders Jean-Paul de la Fuente. The Indonesia Pavilion Director Ms. Merry Mariati was also in attendance. "Indonesia and Komodo Island itself are now symbolically directly connected with the historic World Expo in Dubai," de la Fuente commented. "This special Wonder Marker, shared with all the New 7 Wonders of Nature, points directly to the entrance of the Komodo National Park, exactly 8900 km away. We join with all Indonesians in celebrating this proud moment for their World Wonder!" To symbolise the camaraderie between the New 7 Wonders of Nature sites, traditional drums from Labuan Bajo called Belek were played by the official representatives of New7Wonders and the Indonesia Consulate General. Event attendees were also able to enjoy traditional cultural performances from East Nusa Tenggara.
February 12, 2022 was another jam-packed day at EXPO 2020 Dubai. The events kicked off with the unveiling of the Wonder Marker in honour of Ha Long Bay, the Vietnamese New 7 Wonder of Nature. At the ceremony, Vietnamese Ambassador to the UAE Nguyen Manh Tuan spoke of the unique beauty of Ha Long Bay, a site featuring thousands of limestones karsts and islets led to the site's placement among the canon of the New 7 Wonders of Nature.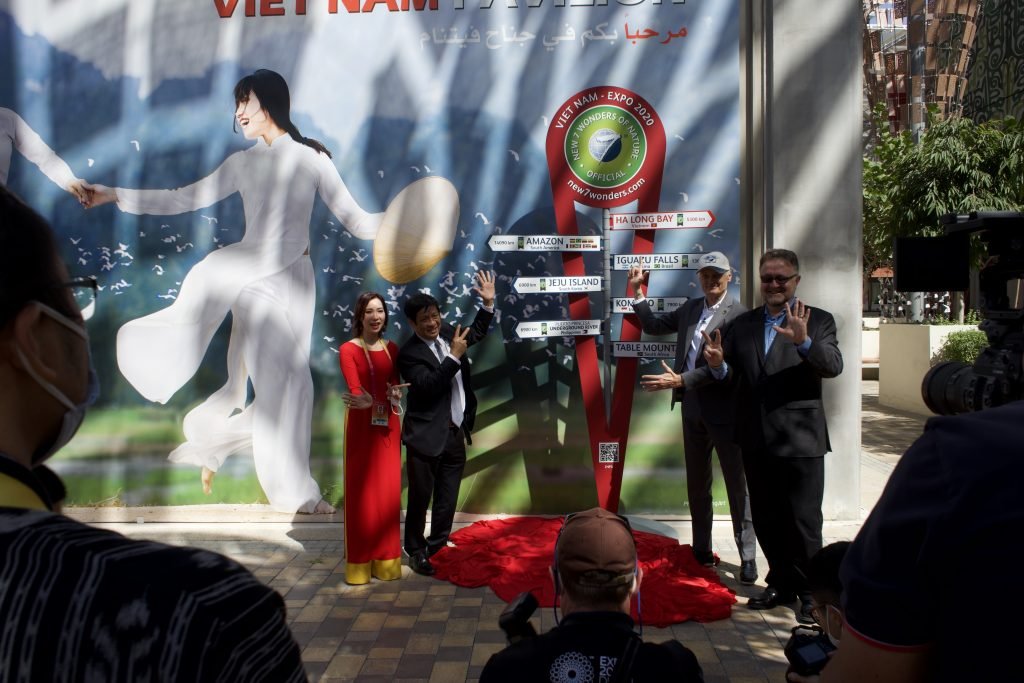 The Wonder Marker in honour of Ha Long Bay clearly states the distance between EXPO 2020 Dubai and the New 7 Wonders of Nature in their respective locations throughout the world. At the Wonder Marker unveiling ceremony, the audience also enjoyed a traditional Vietnamese performance. With the help of the Wonder Markers, the team at New7Wonders hopes to promote global awareness of these specially selected sites and the value of global memory, a concept that Weber sees as a key unifying force for humanity.