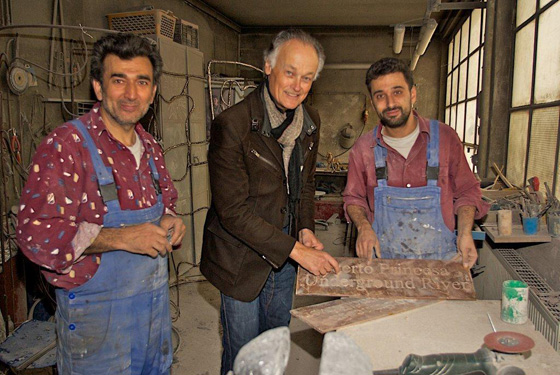 In preparation for the Official New7Wonders of Nature Inauguration ceremonies, the commemorative plaques for the seven global sites are currently being cast at a foundry in the heart of Munich, Germany. The bronze panels, weighing 120 kg and measuring 130 x 110 x7 cm, are being produced at the Kunstgießerei München, which was established in 1905. Today, under the watchful eye of proprietor Hasan Göktepe, the ancient craft of pouring liquid metal into specially-designed moulds is combined with 21st-century aesthetics, and the presence of his sons Aslan und Selim ensures that the tradition is secured for another generation.
"I am amazed and surprised how much hard and very hot labour it is to actually make the heavy New7Wonders of Nature commemorative plaques," said Bernard Weber, Founder-President of New7Wonders. "Not only the preparation, the post-casting finishing and polishing is extremely work intensive, but the hot, glowing bronze casting is the visual highlight of the production process. I felt very privileged to witness a process that humans have been doing for over 4,000 years. It's just amazing."
Weber noted that the Kunstgießerei München is the only one of its kind left in a part of Munich that was home to many foundries when the city's Schwabing area was home to bohemians and artists such as Thomas Mann, Rainer Maria Rilke, Christian Morgenstern, Lion Feuchtwanger and Oskar Maria Graf.
The first plaque, for the Puerto Princesa Underground River in the Philippines, will be completed on Thursday and it will be followed by the one for Halong Bay in Vietnam. After that, the plaques for the Amazon and Iguazu Falls will be cast and finished.