Bamiyan Buddha Project
The giant Bamiyan Buddha was constructed in the 4th century AD in Afghanistan. More than 1500 years later the former Taliban regime caused an international outcry when it blew up this world-renowned treasure in March 2001..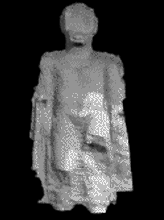 Now an international project, initiated by Bernard Weber, founder of the New 7 Wonders Foundation, together with Paul Bucherer of the Bibliotheca Afghanica Foundation, plans to reconstruct the larger statue, which once stood 55 metres tall. The first stage of the project has already been accomplished. A virtual, 3D, reconstruction of the statue has been created in association with the ETH Zurich (Swiss Federal Institute of Technology in Zurich) .By the 2005 World Exhibition in Aichi/Japan a scale model of the larger Buddha was on display in the Swiss Pavilion.
It is hoped the project will culminate in the rebuilding of the giant structure, back in its original location. This is dependant on the will of the Afghan people and the permission of the new Afghan government. It is estimated that this ambitious project will cost between 30 and 50 million US dollars, most of which will need to be financed privately.