Bamiyan Buddha Project
The giant Bamiyan Buddha was carved in the 4th century AD in Afghanistan. More than 1,500 years later the Taliban regime caused an international outcry when it blew up these world-renowned treasures in March 2001.
Shortly afterwards, an international project initiated by Bernard Weber, Founder-President of New7Wonders, together with Paul Bucherer of the Bibliotheca Afghanica Foundation (now the Afghanistan-Institute), planned to reconstruct the larger statue, which stood 55 metres tall. The first stage of the project was accomplished with the creation of a virtual, 3D, reconstruction of the statue in association with the ETH Zurich (Swiss Federal Institute of Technology in Zurich). During the 2005 World Exhibition in Aichi, Japan, a scale model of the Buddha was put on display in the Swiss Pavilion.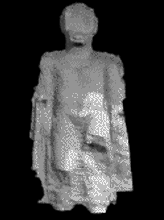 It is hoped the project will culminate in the rebuilding of the giant structure in its original location. This is dependent on the will of the Afghan people and the permission of the Afghan government. This ambitious venture will cost an estimated US$30 to US$50 million, most of which would need to be raised privately.
In 2013, a team from the German branch of the International Council on Monuments and Sites (Icomos) began to rebuild the feet of the smaller Buddha. This was contrary to Unesco policy, based on the 1964 Venice charter for the conservation and restoration of monuments and sites, which requires the use of "original material". The Afghan authorities ordered the Icomos team to stop work. Reconstruction has stalled since then as archaeologists and Unesco policy-makers continue to argue.